MONTRÉAL VILLE CANDIDATE POUR LES CHAMPIONNATS DU MONDE ROUTE UCI 2026
Consultez le communiqué de presse
Nous avons l'immense joie de vous annoncer que Montréal est en lice pour l'obtention des Championnats du Monde Route UCI 2026! Notre organisation est d'ailleurs très fière d'avoir réalisé cette importante candidature avec la complicité de la Ville de Montréal, Cyclisme Canada,  la Fédération québécoise des sports cyclistes (FQSC) et Tourisme Montréal.
Après avoir dû annuler nos épreuves en 2020 et 2021, nous sommes très heureux de partager enfin cette bonne nouvelle! Voici en quelques lignes les points forts de ce prestigieux événement sportif mondial :
Un programme de compétition réparti sur 8 jours

Un événement gratuit pour le public

1 000 athlètes, hommes et femmes, de calibre Junior, moins de 23 ans et Élite

11 titres à défendre : 6 épreuves contre-la-montre, 5 épreuves en ligne (route)

75 pays représentés
Saviez-vous que les Championnats du Monde Route UCI n'ont eu lieu qu'à neuf reprises en dehors de l'Europe depuis leur première édition en 1921? C'est sur le circuit du Mont-Royal, à Montréal, en 1974, qu'a eu lieu la première édition de cette compétition à l'extérieur du Vieux-Continent couronnant le légendaire Eddy Merckx.
3 SEMAINES 100% VÉLO
Les Championnats du monde Route UCI 2026 auraient lieu en septembre, une semaine seulement après les Grands Prix Cyclistes de Québec et de Montréal, donnant lieu à trois semaines 100% vélo au Québec. Imaginez l'action à venir dans la métropole qui se classe déjà parmi l'une des meilleures villes cyclistes en Amérique du Nord !

Parmi les sites envisagés, le parc Jeanne-Mance, le Mont-Royal, le Parc olympique, le parc Jean-Drapeau et le Vieux-Port de Montréal ont été identifiés comme théâtre des exploits cyclistes de 2026. Les parcours se dessinent le long du fleuve Saint-Laurent et en plein cœur de Montréal, et il ne serait pas exclu que certains tracés visitent les routes prisées de la grande région métropolitaine.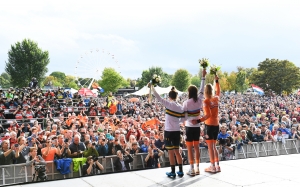 SOYEZ À L'AFFÛT
La ville sélectionnée pour être l'hôte des Championnats du monde Route UCI 2026 sera dévoilée dans les prochains mois. Nous vous tiendrons évidemment informés des développements.
Avec l'ensemble des partenaires du projet, notre objectif est d'organiser un grand rendez-vous sportif, spectaculaire et accessible, réunissant la planète cycliste dans la ville classée no.1 pour l'accueil d'événements sportifs au Canada.

Nous visons à créer des expériences mémorables, et celles-ci se dessinent grâce à votre engouement pour nos courses, votre passion et votre énergie contagieuse. L'accueil chaleureux des coureurs, l'ambiance qui émane de nos rendez-vous cyclistes, c'est vous qui l'avez créé. La magie opère depuis 10 ans et nous permet de préparer aujourd'hui la place de Montréal sur l'échiquier mondial. Cette candidature, c'est la vôtre également. 
Merci.
L'équipe d'Événements GPCQM
C'est en étroite collaboration avec l'UCI que le projet serait piloté par Événements GPCQM, avec l'appui de Cyclisme Canada et de la FQSC, grâce au soutien financier et technique de la Ville de Montréal, des gouvernements du Québec et du Canada, puis de Tourisme Montréal. 
Crédit photo: SWpix/UCI
We are very pleased to announce that Montréal is in the running to host the 2026 UCI Road World Championships! Our organization is very proud of having realized this important candidacy with the complicity of the City of Montréal, Cycling Canada, the Fédération québécoise des sports cyclistes (FQSC) and Tourisme Montréal.
After being obliged to cancel our events in 2020 and 2021, we are very happy to finally share this good news! Here are some of the highlights of this prestigious world sporting event:
A competition program spread over 8 days
A free event for the public
1,000 athletes, men and women, from Junior, Under 23 to Elite level
11 titles to defend: 6 time trials, 5 road races
75 countries represented
Did you know that the UCI Road World Championships were held only nine times outside Europe since their first edition in 1921? In 1974, the Montréal Mount Royal Circuit hosted the first edition of this competition outside of the Old Continent, crowning the legendary Eddy Merckx.

THREE 100% CYCLING WEEKS
The 2026 UCI Road World Championships will take place in September, just one week after the Grands Prix Cyclistes de Québec et de Montréal, resulting in three 100% cycling weeks in Québec. Imagine the action to come in the city that already ranks among the best bike-friendly cities in North America!
Among the venues considered, parc Jeanne-Mance, Mont Royal, the Olympic Park, parc Jean-Drapeau and the Old Port of Montréal were identified as the stage for the 2026 cycling exploits. The courses will be set up along the St. Lawrence River and in the heart of Montréal, and some of these may include a few of the local's favorites in the greater metropolitan area.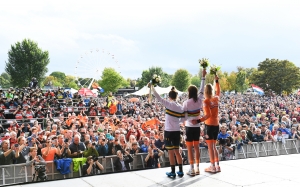 STAY TUNED
The city selected to host the 2026 UCI Road World Championships will be announced in the upcoming months. We will of course keep you updated.
Together with all our partners in the project, our goal is to organize a great sporting event, spectacular and accessible, bringing the cycling world together in Canada's best city for hosting sporting events.
We aim to create memorable experiences, and these are made possible by your enthusiasm for our races, your passion and your contagious energy. The warm welcome given to the riders, the atmosphere that emanates from our cycling events, it is you who created it. The magic has been working for the past 10 years, and today it allows us to prepare Montréal's place on the world stage. This bid is also yours. 
Thank you for your support.
The Événements GPCQM team
It is in close collaboration with the UCI that the project will be piloted by Événements GPCQM, with the support of Cycling Canada and the FQSC, thanks to the financial and technical support of the City of Montréal, the governments of Québec and Canada, and Tourisme Montréal.

View the press release
Photo credit: SWpix/UCI